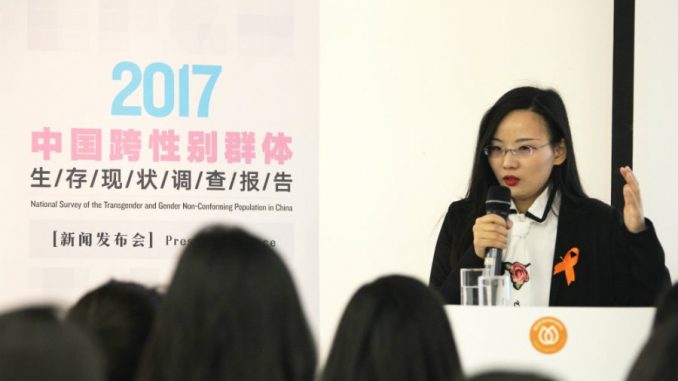 Pioneering research on transgender population in China reveals mental health issues and struggle for acceptance.
Considered to have the largest sample size, the National Survey of the Transgender and Gender Non-conforming Population in China was participated by 2,060 respondents.
Advocate stated the study highlighted two key areas for better treatment of transgender Chinese: family support and healthcare.
Findings of China's survey of transgender population were released anew by Beijing-based LGBT organization according to China Development Brief website on Tuesday.
The National Survey of the Transgender and Gender Non-conforming Population in China was released by the Beijing LGBT Center and the Department of Sociology of University with the support from the Dutch embassy.
With 2,060 respondents, it is said to have the largest sample size and considered as pioneering academic research of the subject.
The findings were unveiled in a press conference held at the Embassy of the Netherlands in Beijing last November, commemorated internationally as Transgender Day of Remembrance dedicated for the memory of transgender people killed worldwide.
The press conference was attended by Dutch ambassador Ed Kronenburg, United Nations Development Programme representative Yang Zhen, Beijing LGBT Center executive director Xin Ying, various LGBT groups, media, academe, and members of the public.
The results of the survey showed that 80 percent of the people who identify as transgender reported to have experience gender dysphoria, a distress brought about mismatch between gender assigned at birth and gender identity.
The respondents also reported a host of mental health issues. For instance, 61.5% said they experienced depression and 75.2 percent said they have anxiety.
About 1 in 2 respondents thought of suicide and 12.7 percent said they tried to end their life.
They also largely receive little support and acceptance by their families. Overwhelmingly, 90% of the families do not completely accept their transgender children.
Furthermore, 6 out of 10 said that they do not receive support from their families.
The grim statistics highlighted the complicated situation for transgender Chinese. In related transgender top stories, public acceptance of transgender people in the larger society runs against conservative personal beliefs.
While celebrities such as transgender woman Jin Xing commands widespread popularity, those who are outside of the entertainment industry face considerable difficulties, a situation that experts trace to the Chinese trope that gender is seen as a form of performance.
Although the recent legal victory of a transgender man is right step forward, there's a lot more to be done.
According to the survey, trans Chinese have been considered as confusing for a long time. Their identity is mistaken as sexual orientation.
The survey was conducted online through a series of questions that covered relevant aspects of transgender lives including basic information, medical environment, school and work, psychological health and services, and policy needs.
Clarifying the identities of the respondents, the study listed transgender men, transgender women, and genderqueer – referring to people whose gender does not confirm to binary definitions of men and women.
In an interview to the Sixth Tone website, Pipi, a transgender woman, said that the survey shines a light on two urgent issues facing the transgender population: family acceptance and healthcare.
Pipi stated that when trans-friendly healthcare professionals could explain gender identity, acceptance could be easier among relatives.
A guideline also needs to be established to change the term used to describe procedures for sex change to sex reassignment surgery.
Lastly, Pipi called out the inadequate privacy protection and medical services available to Chinese transgender population.