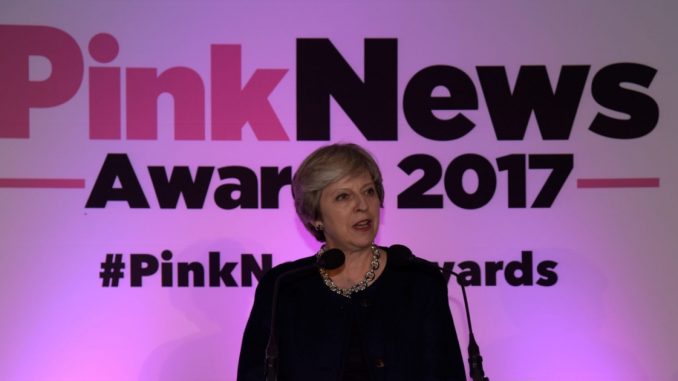 British Prime Minster Theresa May announced that the government will work to eliminate medical tests as a requirement for transgender people to have their gender marker changed, according to Reuters report on Friday.
May unveiled her plans for transgender people to no longer need to see a team of doctors in order to change gender on Wednesday at the Pink News Awards that celebrated the promotion of LGBT rights, saying, "Being trans is not an illness and it shouldn't be treated as such."
In her speech, May vowed to demedicalize the process of changing gender according to Mirror UK, making it easier and removing the power of doctors to decide for transgender individuals.
"We've set out plans to reform the Gender Recognition Act, streamlining and demedicalising the process for changing gender, May said in her speech. "There is much still to do, and the government has a plan to deliver. LGBT history is all of our history."
It was also revealed that consultations as early as July were conducted with the goal of reviewing existing regulations regarding legal gender recognition.
Additionally, she also hailed gay marriage in the country as one of her proudest achievements as Home Secretary but stated that more had to be done.
Reuters mentioned that existing laws in Britain require anyone who request for change of their legal gender to win the approval of a team of medical professionals.
They also needed to be diagnosed with a mental health condition which activists say can cause distress and humiliation.
Under the Gender Recognition Act, transgender individuals have to be diagnosed with gender dysphoria, a medical condition that describes the distress due to the mismatch of gender assigned at birth and the gender the individual identifies with.
Applicants are also required to submit proofs to doctors reviewing their application that they are undergoing medical transition for two years.
Lesbian, gay, bisexual, and transgender (LGBT) advocates said that the requirements under current laws are particularly degrading. They claimed that the right to decide on one's gender identity must exclusively be determined by the individual alone.
Saying that the Act is extremely outdated, Rutch Hunt, LGBT rights group Stonewall head, explained, "It forces any trans person who wants their gender to be legally recognized to go through years of medical tests and bureaucratic red tape."
Other groups have also considered British laws on gender change out of step from Europe's more progressive stance and legislations protecting LGBT rights.
ILGA-Europe, an LGBT rights group, said that it is time for an overhaul.
"(We) would now like to see the Prime Minister act on her words," it said in a statement. "Trans people in the UK have been waiting for … too long."
Estimates from Lancet medical journal showed that in 2016, there are 25 million transgender people all around the world.
An increasing number of British children are experiencing distress over their gender assigned to them at birth and are coming out as transgender, some of whom are as young as three years old.