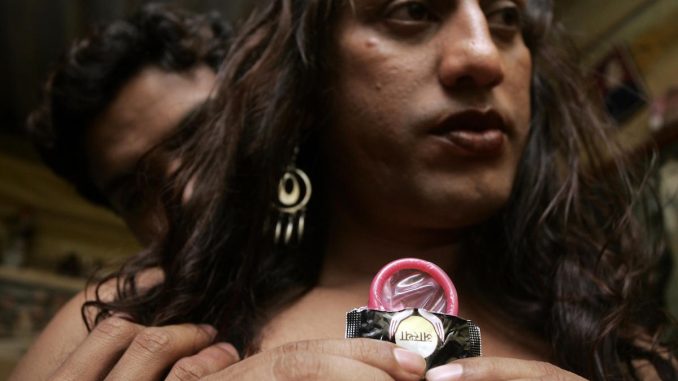 Vulnerable transgender women in the sex industry are routinely extorted by the police and other people in India.
This led them to engage in risky sex practices to earn more but also increases their chances of being infected with sexually transmitted diseases.
Despite Supreme Court's landmark ruling in 2014 that granted them legal status, transgender Indians still struggle from social bias that kept them from job and educational opportunities.
A study revealed that female transgender sex workers were routinely extorted by the police in India, leading them to engage in risky sex practices in order to earn more but may lead to an increase in their chances of contracting sexually transmitted diseases.
According to transgender news article by the Reuters posted on January 23, the report was conducted in 2017 and was based on interviews gathered from respondents made up of 300 transgender women who are in the sex industry in major cities in the country.
Vulnerable transgender sex workers
Researchers also said that aside from the police, trans women were also vulnerable to exploitation by other people.
Venkatesan Chakrapani, C-SHaRP chair, trans community researcher, and physician, said, "We found that transgender women have poor earnings and they have to share that too with the police and ruffians who exploit them."
He also said this would lead some of them to engage in risky, unprotected sex.
"Because of this extortion, they try to earn more and do not insist their customers use condoms," Charapani said in an interview.
Government data showed that there is 7.5 percent prevalence of HIV among members of the transgender community, way higher than the national average of 0.3 percent.
Colonial-era law
Female transgender Indians are scared of the police out of a law that dates to the British colonization that forbids carnal intercourse against the order of nature with any man, woman, or animal.
Many interpreted the law as prohibition against having sex with people of the same gender.
Chakrpani explained that it was unclear whether trans women in sex work could be sanctioned.
"Biologically, most transgender women are born as males, so it is not clear whether they could be penalized for having sex with a man," Chakrapani said.
Social bias
There are half a million transgender people living in India according to the 2011 census, although advocates claimed that the number could be higher, with some estimating them to be about 2 million.
In 2014, the country's highest court gave legal status to transgender people and granted them eligibility in quotas in labor market and education. Recently, an Indian railway issued tickets with transgender category.
In addition, transgender women have made groundbreaking achievements including Aizya Naaz Joshi, the first trans cover girl, Joyita Mondal, first transgender judge, and Nitasha Biswas, the first trans beauty queen.
Despite the advances, social bias against them persists.
Advocates said that many trans people are denied of opportunities for work and school. According to the 2011 census, only half of the members of the transgender community were literate and only a few have traditional jobs.
Shubha Chacko, executive director of Solidarity Foundation, an organization that helps trans individuals find jobs, said, "If they are begging or are engaged in sex work, they face more abuse from the police."
Police training and protection for gender minorities
The research, a collaboration of researchers from Chennai-based Center for Sexuality and health Research and Policy (C-ShaRP) and the Mumbai-based Humsafar Trust, pointed out that protection is needed for gender minorities and sensitivity training is to be conducted for the police.
The National Police Academy director, Doley Barman, said that a training program intended for the police will include sensitization modules on dealing with the transgender community and visits to areas where they can interact with transgender citizens.