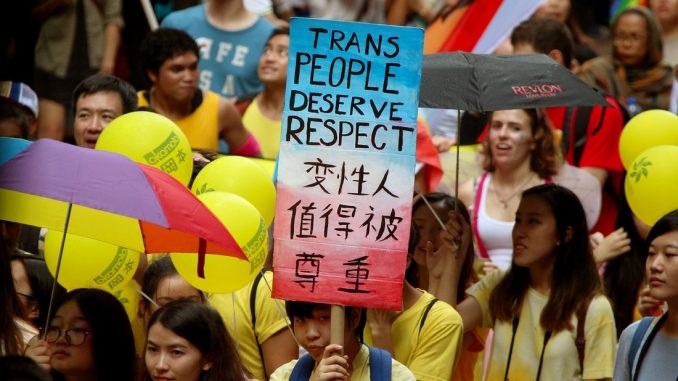 Equal Opportunities Commission pushed for gender recognition legislation that would remove sex reassignment surgery requirement, and would be replaced with a statutory declaration and an intent to live permanently in their affirmed gender.
Christian group Society of Truth and Light criticized the suggestion, stating that it is succumbing to international fad and would render the concept of gender vague and subjective.
The Hong Kong government currently issues identification card for transgender people bearing their gender identity, but experts believe their status is in limbo in areas of housing and insurance.
Equal Opportunities Commission (EOC), Hong Kong's equality watchdog, called on the government to make the process of legal gender recognition simpler.
According to transgender related news published on the SCMP website today, they put forward a proposal to remove gender confirming surgery requirement and instead will only require applicants to make a statutory declaration and an intent to live permanently in their gender identity, a suggestion that would likely spark controversy.
Their recommendations run against the suggestions put forward by some local Christian leaders, who believe that what transgender individuals need to mitigate the discriminatory issues they face could be social policies and gender-neutral facilities rather than demanding for change in existing laws.
Society of Truth and Light
On its website, the Christian group Society for Truth and Light opposed the gender recognition legislation.
The group maintained that in order to protect social stability and moral values, transgender people must continue to abide the required gender confirming surgery in order to be recognized.
It has also criticized the proposal on statutory declaration in place of surgery as succumbing to international fad and describing such action as bad in the way that it renders the concept of gender as vague and subjective.
Transgender status in limbo
The Hong Kong government opened a public consultation last year to discuss about transgender rights.
The action was in response to a 2013 ruling by the highest court granting a transgender woman to marry her boyfriend. Many transgender individuals soon followed suit and were allowed to get married.
Experts however said that their status remained in limbo particularly on areas of insurance and housing.
Comprehensive gender recognition
What EOC proposed is a comprehensive gender recognition legislation.
Professor Alfred Chan Cheung-ming, EOC chairperson, stated, "[The government] should not be [consulting] on whether a gender recognition scheme should be introduced in Hong Kong but rather what kind of gender recognition scheme should be adopted."
Currently, transgender people in Hong Kong can get new identification cards that reflect their gender identity only after they have undergone medical procedures to remove their genitals and construct organs of their gender.
EOC pushed for the removal of the said requirement.
They went on to add that medical diagnosis must similarly be removed, explaining that it would conform to international development including the recognition by the World Health Organization that transgenderism is not a disease.
Statutory declaration
Instead, applicants of legal gender recognition would issue a statutory declaration from a medical expert or psychologist confirming that they receive appropriate care associated with their transition or must have lived in their affirmed gender for several months.
They must also issue a declaration that they would live permanently in their gender identity, a mechanism that is aimed to discourage abuse.
Chan further urged the government to announce their decision on the issue, to establish the process for gender recognition, and follow Britain's example of instituting a Gender Recognition act with a judicial panel that would be responsible in issuing certificates for transgender applicants.