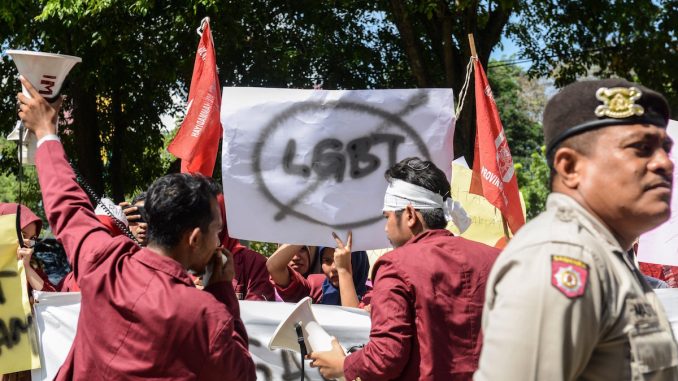 Police in Aceh, Indonesia raided several beauty salons and detained transgender women who were employed there.
Human rights group condemned the action, describing it as inhuman, and called out the police for operating outside of the law.
While transgender Indonesians have a long and vibrant tradition and culture, they remained largelymarginalized in society and are targeted in the recent wave of anti-LGBT rhetoric sweeping across the archipelago.
Police in Aceh, a conservative province located in northern end of Sumatra, Indonesia, raided several beauty salons last weekend and detained transgender women who were employed there.
According to transgender news article by BBC posted on January 29, the female trans employees were forced to wear men's clothes and their long hair cut. The authorities were reported to be teaching them to behave as real men.
Negative influence on children
Ahman Untung Surianata, local police chief, said in an interview that the raid, which went with the name Operation Anti Moral Illness, was meant to address complaints from the neighborhood that the presence of transgender women posed as negative influence on their children.
Known locally as waria, a combination of Indonesian words for men and women, they were detained in police station for three days.
Surianata said, "We are holding them for three days to give them counselling and coaching. It's going well and now they are all acting like real men."
He then yelled at the detained trans women, "Are you still waria now?" They answered they were not, bowing to pressure.
Human rights abuse
The police action was criticized as human rights violation.
The Indonesian National Commission of Human Rights condemned the raids, stating that the police operated outside of the law and their actions were inhuman.
Beka Ulung Hapsara, commissioner, said, "All citizens deserve protection and to be treated equally."
"After seeing photos of the raid and the information we have received so far about the raid, it's clear that they violated the police code of conduct. The job of the police should be to protect people, particularly the vulnerable," Hapsara continued.
Transgender rights in Indonesia
The Indonesia culture features a long and vibrant history with waria tradition and culture.
According to BBC, transgender people were generally met with tolerance in society. Some parts of the country continue to revere them as divine.
However, there has been an increasing anti-LGBT sentiment sweeping across the archipelago, fuelled by hateful rhetoric against the members of the LGBT community by leaders of religious institutions and several prominent politicians.
Transgender Indonesians remained largely marginalized in society, forcing many of them to begging and prostitution.
For example, the world's only Islamic boarding school for transgender Muslims was reported to be fighting a backlash. Last year, police cancelled a transgender cultural event.
The capital city Jakarta is no longer considered a safe haven, with law enforcement conducting raids against business establishments frequented by LGBT people and imprisoning men caught violating the country's controversial laws against pornography.
The province of Aceh was granted unique autonomy in terms of promoting a stricter version of Islamic laws into the society over ten years ago.
Over the years, it has increasingly become more conservative.
For example, while being transgender is not against Sharia law, homosexual intercourse is prohibited. Last year, two men were the first people to be caned publicly for the charge of having been engaged in gay sex.