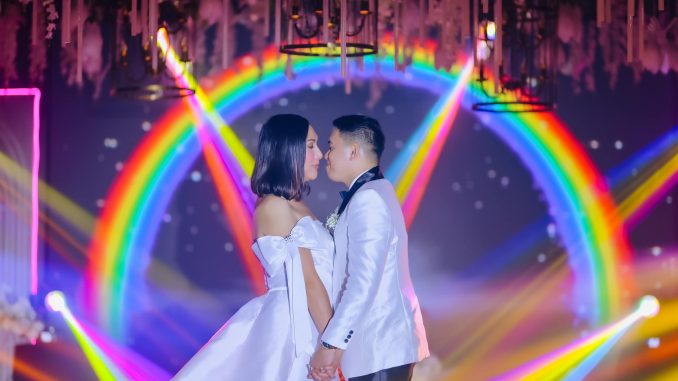 A remarkable and heartwarming rainbow-themed wedding celebration has recently taken the internet by storm, as it showcased the love and union of a transgender couple. Jazzie Tiro and Mac Balbuena, the radiant duo behind this extraordinary event, aimed to recreate the magic of their civil wedding held at the British Embassy in Manila.
Reflecting on the immense significance of their union, Tiro expressed her initial hesitation but was ultimately overwhelmed by the magnitude of the moment. "I was actually overwhelmed because at first, I was hesitant. I knew that we will be the first," she confessed, recalling the mixture of emotions that surrounded their groundbreaking ceremony.
The enchanting celebration included a beautiful reenactment of their original wedding, during which Tiro gracefully walked down the aisle in a stunning wedding gown, with Balbuena eagerly awaiting her arrival at the altar. As the host proclaimed them as husband and wife, a breathtaking display of lights burst into an array of vibrant rainbow colors, symbolizing unity, diversity, and love.
Tiro, who had previously undergone gender-affirming surgery in the United Kingdom, where she is already a citizen, acknowledged the potential impact of her story. "My friends told me that I can inspire a lot of people," she revealed, recognizing the power of her journey in empowering others who might be facing similar challenges.
The captivating photos and videos of the wedding celebration were shared on social media by wedding coordinator Carlo Abaquita, quickly gaining widespread attention with over 500 shares. Abaquita, touched by the couple's remarkable love story, remarked, "Love is indeed universal," underscoring the profound connection that transcends gender and societal norms.
In a few short weeks, Tiro will be returning to the United Kingdom, where she holds a position in the radiology technology department of a hospital. Balbuena, meanwhile, has plans to eventually join her in the UK, cherishing the opportunity to build a life together filled with love, support, and understanding.
As the waves of adoration and admiration continue to pour in, Tiro expressed her transformed perspective on their decision to celebrate their love so openly. "I was hesitant, but now I see the impact of it all," she shared, embracing the positive influence their wedding celebration has had on the lives of others.
Tiro and Balbuena's hope for a brighter future extends beyond their own personal journey. They ardently aspire for transgender marriage to be legally recognized in the Philippines, eagerly anticipating the day when love knows no bounds and is celebrated without restrictions.
In a world that can sometimes be clouded with prejudice, their radiant love story serves as a powerful reminder that love conquers all and that the pursuit of equality continues to be an essential endeavor.