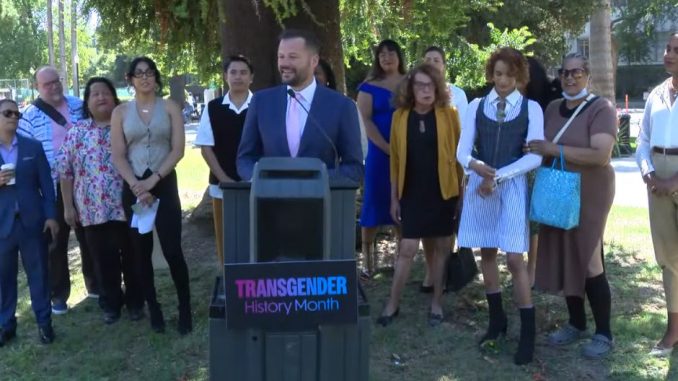 California's State Assembly recently decided that from 2024 onwards, August will be known as Transgender History Month. This makes California the first state to officially celebrate transgender history this way.
The decision is because California has played an important role in transgender history. This goes back to when Spanish settlers tried to stop people from being themselves, which was a crucial part of the state's history.
The decision also recognizes events like the Compton's Cafeteria Riot, which happened before the famous Stonewall riots, and the work of Lou Sullivan, who did a lot for transgender men. It also acknowledges the creation of the Transgender District in San Francisco in 2017, among other things.
California wants to honor its transgender community by dedicating August to transgender history. They want to encourage research, education, and recognition of what transgender people have contributed to the state's history. They also want to teach future generations about this important history.
To announce this decision, California Assembly Democrats held a press conference outside the State Capitol. Assembly member Matt Haney, who represents San Francisco and proposed this idea, was joined by Honey Mahogany and Jupiter Peraza, co-founders of the Transgender District, which is the world's first legally recognized transgender district.
Mahogany spoke first, noting that even though California has some protections for transgender people, there's still a lot of prejudice against them. She said:
"Even here in California, where we're supposed to be safe, we still see violence and attempts to make laws against us. It's crucial that we stop spreading false information about transgender people and use this chance to educate others about who we are and what we need."
Haney followed thereafter saying:
"Transgender people have always been part of California, contributing to their communities, making history, and fighting for civil rights to make California more inclusive and better for everyone."
San Francisco was the first city to officially acknowledge Transgender History Month back in 2021. While these declarations are mainly symbolic, they carry a lot of meaning, especially at a time when some people are trying to portray LGBTQ+ education as harmful to students.
This event shows that California is taking a big step in appreciating and respecting its transgender community and their history.