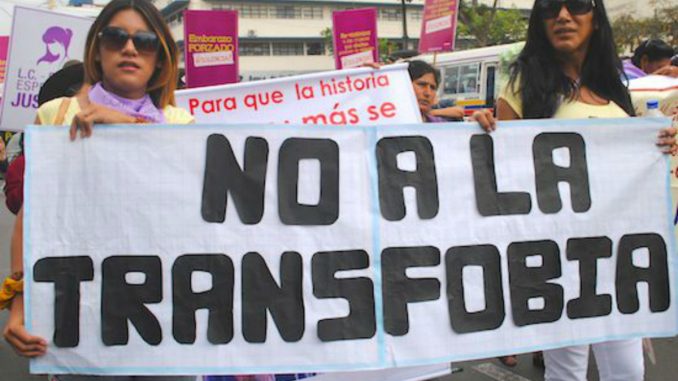 Latin American countries have made monumental strides in advancing the civil rights of transgender citizens, although a lot of work is to be done as they still face social intolerance and violence.
In a comprehensive report by the Washington Blade on Thursday, Argentina, Colombia, Uruguay and Mexico City are among the Latin American territories that have extended transgender rights, allowing them to legally change their name and gender without undergoing sex-reassignment surgery.
Supporters of transgender rights have also celebrated other notable legislative and political achievements, including El Salvador's criminal code that puts stiff penalties for hate crimes based on gender identity and Mexico City's non-discrimination laws.
In addition, transgender individuals are allowed to enlist and to serve in the armed forces of Bolivia and 17 other countries. The Cuban public healthcare system, on the other hand, provides them with free sex-reassignment surgeries.
The election of transgender public officials has also raised the profile of the trans community and had made history in their respective countries.
Kendra Stefani Jordany won a primary election in Honduras last March, becoming the first openly trans person to ever do so. Luisa Revilla became the first trans elected official in Peru, while Tamara Adrian was elected to the Venezuelan National Assembly in 2015 and Dian Rodriguez in the Ecuadorian Congress earlier this year.
Setbacks in transgender rights
But despite the high-profile victories of elected transgender officials and advances in transgender rights recently, political and social setbacks still hound transgender people across Latin America.
Advocates in Honduras, El Salvador and other countries said that discrimination based on gender identity in employment, education, health care and other sectors remained commonplace.
Agata Brooks, a transsexual woman from Dominican Republic, said in an email that there seems to be a double morality. "Many are only looking for trans people in secret in order to satisfy their sexual desires, but they are the first to point you out in public," she wrote.
"The situation of our trans community is very delicate", said Odaly Araujo, a trans woman in El Salvador. She also said that there is lack of opportunities for education for transgender individuals in the country, forcing them to dress in manly clothing when attending high school or university.
"They are not prepared for life," Tatiana Piñeros, a trans woman in charge of Bogota's social welfare agency under Mayor Gustavo Petro's administration, said as transgender students are forced to drop out of school due to discrimination.
Piñeros and other advocates said that because of the lack of opportunities in education and employment, many trans women resort to working as sex workers.
María Fernanda Martínez of Colombian LGBT group Caribe Afirmativo said, "We see that it is not normal in Colombia to find a trans woman working in a formal job."
Violence targeted against transgender people
Interviews gathered by Washington Blade disclosed that violence based on gender identity remains a serious issue.
In April 2015, a videotape of torture and murder of Dandara dos Santos, a Cuban trans sex worker, by six teenagers sparked outrage and put the brutal violence based on gender identity to the front of public discussion on transgender rights in Cuba.
The former board member of Colectivo Alejandria, a transgender advocacy group in El Salvador, was stabbed to death while visiting a friend in October of 2015.
Estimates in 2012 from the Brazilian Secretariat of Human Rights indicate that more than 50% of the 300 reported LGBT murder cases are transgender people, and roughly 52% of whom are people of color.
The Inter-American Commission on Human rights revealed in 2014 that the life expectancy of trans people in Western Hemisphere is between 30-35 years.