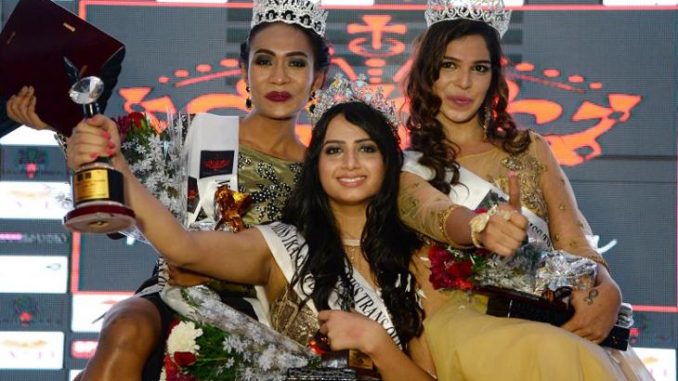 Nitasha Biswas, 26, bested 15 other candidates and was crowned Miss Transqueen India last August 30, 2017, becoming the very first transgender beauty queen in the country, The Tribune India reported on Friday.
Biswas will be the country's official candidate to the prestigious Miss International TransQueen to be held on March next year in Thailand.
Although she knew the journey ahead will not be easy, she remained firm to make a mark in the international pageant scene to bring honor to her country.
"Just as Sushmita Sen and Aishwarya Rai have brought laurels for India, I too want to be the first to bring this international crown for my country," she said.
Biswas, who found work on online shopping site and working her way in the fashion world, said that her life as a transgender woman was tough.
"Ever since my mother passed away when I was very young, I had no one to talk to and share my feelings about my sexuality — that despite being a boy, I felt more like a girl," she said in an interview. "My aim was to collect enough money for a sex-change operation."
While her father provided support especially during her transition through a surgery, she was crestfallen with the abandonment of some of her friends. "It was strange how even those who professed to be educated and modern in approach started avoiding and looking down upon me."
In its website, Miss Transqueen India aims to empower transgender people particularly the young, underprivileged trans women and to be a platform for beauty and pride of the LGBT community. Over 10,000 candidates from all over the country participated.
The beauty pageant and Biswas' historic win mark another milestone in India's evolving attitude towards its transgender citizens.
According to CNN, historically, hijra – name for male-to-female transgender – were traditionally revered in 3,000-year old Hindu mythology. They held significant power as royal advisers and protectors of royal harems.
They are discriminated, bullied, and feared for their 'dark' supernatural powers; they are thought to be only good for singing and dancing at weddings or during childbirth.
In 2014, the landmark Supreme Court decision in National Legal Services Authority (NALSA) versus Union of India officially declared that transgender people belong to the third gender, are entitled to equality as guaranteed by the constitution, and are granted the right to self-identification of their gender identity.
"This has been a big step for us," said transgender activist Gauri Sawant who runs a Mumbai-based NGO Sakhi Char Chowghi. "At least we have an identity now. We can now get our passports, Aadhar and PAN cards and open our bank accounts."
Sawant herself had a difficult childhood, mocked and ridiculed for the way she was. Without family support, she ran away from home when she was 14.
She believed that there's a lot of work to be done for the transgender community.
"Other than giving condoms to transgenders, the government should ensure that they have access to housing and other welfare schemes as well. It should ensure that everyone is sensitised about the Third Gender. This has to be done at the grassroots level itself," she said.
Adopting a child born from an HIV-positive mother, Sawant added that the government should allow transgender individuals to legally adopt children. She stated, "They will prove to be great mothers."
Ankura Patil, 40, an artist and NGO transgender worker for children, couldn't agree more. She helps bringing up her brother's children by attending their school meetings and helping out with schoolwork, saying, "I am more of a parent to them."
For transgender Shaine Soni, 30, it was her work in the fashion industry that saved her from experiencing discrimination other transgender have faced. "I sailed through these maybe because I eventually landed into the fashion industry where there is more acceptance."
Soni, a mentor for Miss Transqueen India, is part of the glam world where she trains female candidates competing in pageants abroad, reality show, theatre, and films.
Additionally, she is helping some of the candidates to become part of the fashion world and providing jobs. "I have spoken to some NGOs to give employment even to those who haven't finished their schooling," she said.