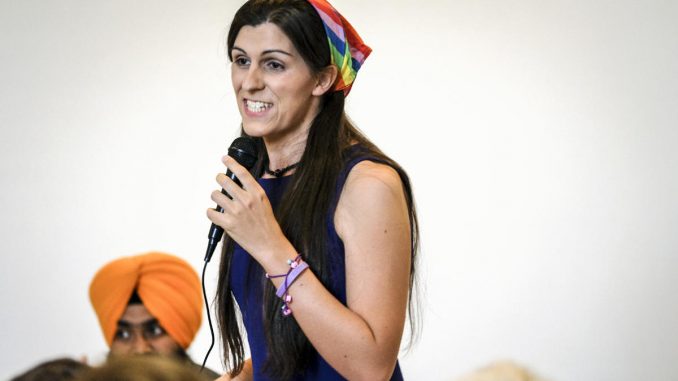 If elected to a seat in Virginia House of Delegates in Richmond, Democratic Party's candidate Danica Roem could become the country's first transgender legislator according to NPR's report yesterday.
Her historic run is notable particularly under President Donald Trump's administration that put an indefinite ban enlisting transgender individuals in the military and lawmakers around the country debating on so-called bathroom bills that prohibit transgender people from using restrooms that match their gender identity.
Roem, 33, was a former lead reporter for the Gainesville Times and Prince William Times and hailed from Manassas, a small town in northern Virginia's Prince William County. When elected, she promises to work on infrastructure issues which she says she is particularly well-versed on.
"I am running this race because I am here to fix your local infrastructure problems,"she said. "As an investigative reporter, I was part of a team that did a five-part water infrastructure investigation in Montgomery County. I mean, I could talk to you all day about tuberculation in water pipes."
But conservative parties are focusing their attention more on her identity as a transgender woman than her campaign.
She is up against seasoned Republican politician, Bob Marshall, who has been in office for 26 years.
Marshall is known for opposing LGBT rights. He refused to use the female pronoun she when referring to Roem and also refused to engage in a debate with her.
Claiming that Roem has a transgender agenda, Marshall told the radio show Sandy Rios In The Morning, "Danica clearly is out here doing this for making a marker in the national character."
He continued, "That you can engage in this behavior, which clearly goes against the laws of nature and nature's God, and hold public office to make decisions on behalf of the common good."
On the show, he also engaged in speculation regarding Roem's transition with the host Sandy Rios.
When Rios said that Roem is a guy who dresses like a woman and claimed that Roem has not undergone any surgery, Marshall commented, "Correct."
Roem replied to the exchange, "One – gross. Number two – stop. Why are you doing this?"
Believing that the conversation about her candidacy should be about her political plans once elected and not on her gender identity, she stated on her online ad, "I'm running for office because my identity shouldn't be a big deal. Because this shouldn't be newsworthy or political, because this is just who I am. There are millions of transgender people in this country and we all deserve representation in our government."
Roem however is open about conversations on her gender identity, appearing in the said ad taking hormone therapy.
"When I stand up on the statehouse floor and the speaker says 'the gentlewoman from Manassas,'" she says, "LGBTQ kids everywhere will know that they can succeed because of who they are, not despite it," she concluded.
Nonetheless, Marshall believed that her transgender identity helped her raise donations from LGBT groups, a situation that University of Virginia lecturer in politics department Carah Ong Whaley agreed.
"While she has said that she's not running on that issue, it is very clearly part of her campaign, and she's talking about it a lot on Twitter. She's talking about it a lot in interviews," Ong Whaley said.
Ong Whaley also expressed doubts about Roem's victory, considering that her strategy will face difficulty in being accepted by moderate voters especially in off-year elections where voters are more conservative and would be hesitant in supporting candidates like Roem.