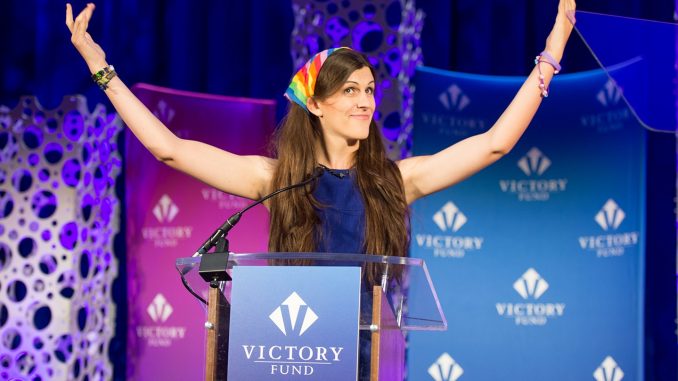 Last month, we featured the story of transgender woman and Democratic party candidate Danica Roem who was gunning for a seat in Virginia House of Delegates in Richmond.
On Tuesday, NPR reported that Roem won the election, making her the first ever openly transgender elected as state legislator in the U.S.
Roem ran against Bob Marshall, a conservative who held the post since 1992 and who sponsored a bill earlier this year that seeks to restrict transgender people from using bathrooms with the gender they identify with.
The race had caught national and international attention.
Roem's campaign was focused on improving traffic and education in her district.
"What motivates me to run is the fact that my mother has been commuting up and down Route 28 for more than 30 years … and Del. Marshall cares more about where I go to the bathroom as a transgender woman than how his constituents get to work," she said in July.
Don Shaw, leader of Prince William County Democratic Committee, said that it was her credentials that pushed him to encourage her to run.
"I would say that I didn't recruit her because she is a transgender woman," Shaw explained. "I recruited her because of her credentials."
While she avoided making her gender identity front and center in her campaign, Marshall, who refused to debate against her, claimed that this was part of her agenda.
"Danica clearly is out here doing this for making a marker in the national character that you can engage in this behavior — which clearly goes against the laws of nature and nature's God — and hold public office to make decisions on behalf of the common good. … That is what is kind of at stake here," Marshall said early this year.
Working previously as a journalist, Roem said her work as a newspaper reporter would make her a better lawmaker.
"I've dedicated my professional career to vetting information … and then reporting the truth as it is, not what other people hope it should be," she said.
Her win, together with a strong show of support on Lt. Gov. Ralph Northam's gubernatorial campaign, boosted the Democrat's bid in winning a majority in House of Delegates as of Tuesday evening.
Elsewhere, another transgender woman made history by being elected to a non-judicial office in a city council according to Equality California, an LGBT civil rights group,
Lisa Middleton won a seat in the City Council in Palm Springs, California, earning more than 31 percent of the vote collected by county officials.
Middleton thanked her supporter at around 9 p.m. inside Eight4Nine Restaurant & Lounge, "It's all because of all of you that we are here tonight, celebrating a victory, a historic victory for our city and for our state."