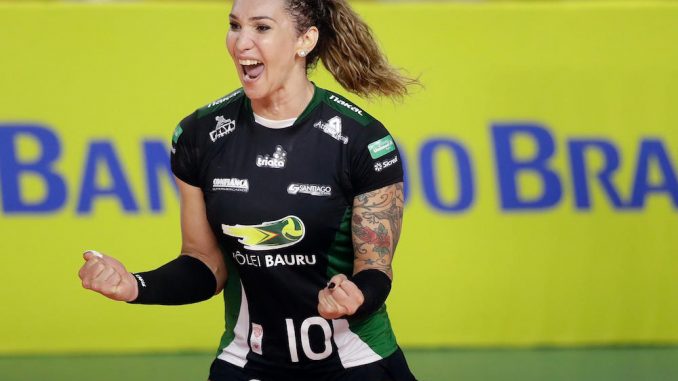 Tiffany Abreu became the first transgender volleyball athlete to join Brazil's Superliga, the country's top volleyball tournament for women after securing permission from International Volleyball Federation.
Brazil's national team coach said there is no reason barring Abreu from joining Tokyo Olympics although she has to earn the spot to be part of the delegation.
Former Olympic volleyball athlete Ana Paula Henkel however expressed her opposition saying that Abreu's former life as a man presents an unfair advantage on the court.
Associated Press posted on December 20 a transgender related news reporting Tiffany Abreu's debut in Brazil's Superliga, becoming the first transgender player in the country's top volleyball tournament for women.
Abreu, 33, born male, is an award-winning volleyball athlete who used to play professionally in European men's tournaments. However, she considered her being named the best player of her debut game of her team Volei Bauru on December 19 as her most important accolade.
"I had two of those (MVP) awards playing in the men's league. But this is a special one," Abreu said in a post-match interview. "I didn't even know until recently that I could play volleyball again."
In her first game, she dropped 25 points for Volei Bauru against Pienheiros that took four sets to finish.
Playing in women's teams
Previously playing for men's leagues in Brazil, Portugal, France, Indonesia, Spain, France, Holland and Belgium, she quit in 2012 to become a woman.
She underwent hormonal treatment to keep her testosterone level in her blood under control in Italy. She also had gender reassignment procedure and consequently changed her identity including her name.
After her transition, she was told that she was permitted to play again. She secured permission from the International Volleyball Federation in 2017 to play in women's teams.
"I took every needed step after my agent said I could play women's volleyball. He knows the rules and said other transsexual athletes play in smaller leagues. So I decided to come back," Abreu explained. "I am obeying the rules, it is not as if I could just say I am a transsexual athlete and want to play."
Additionally, the International Olympic Committee (IOC) decided in January 2016 to allow transgender athletes to compete in the Olympics and other international sports events without having to undergo gender reassignment surgery.
"It is necessary to ensure insofar as possible that trans athletes are not excluded from the opportunity to participate in sporting competition," the IOC wrote.
Playing in Brazil women volleyball league
Abreu played in Italy early this year and while she was met with support, she faced pressure from withering criticism from fans and teammates.
Going back to Brazil was a decision she made to be closer to her family who lived in rural state of Goias.
"Sometimes my mom still calls me Rodrigo," Abreu said. "I never had to break it to my mom, I just said I was starting my transition. She loves me just as much as before."
This month, she signed with the team Volei Bauru which ended its journey in the first half of the season 9th out 12 competitors.
Olympic aspirations
Abreu said that she hoped Jose Robert Guimaraes, coach for the Brazil's national team that won three Olympic gold medals, would take notice and bring her to the Tokyo Olympics.
Seeing no reason why Abreu couldn't join the national team, Guimaraes however stated she has to earn the spot.
"Tiffany is legally apt to play in the Superliga, I don't see any problem in calling her (to play for Brazil)," he said.
Abreu's participation in the women's league has drawn opposition particularly in a country considered as one of the most dangerous places for transgender people and where a TV show about a transgender man is part of a larger culture war against the transgender community.
In her Twitter account, former Olympic medallist and volleyball player Ana Paula Henkel
wrote, "It is not a matter of prejudice, it is physiology… Most players don't think it is fair for transsexuals to play against women. And it is not. (Abreu's) body was built with testosterone all life long."
However, some supported her journey including Volei Bauru coach Fernando Bonatto.
"I met her much before when she played with the men," he said. "She was much stronger then. Her power has gone down a lot because of her transition."
Fan Mariana Florenzani agreed, "Yes, she is stronger than her adversaries… But her mobility is much reduced, she is not as quick and that evens things out… I think we can't fight intolerance being intolerant."
Not minding criticisms, Abreu vowed to work hard to be a better female player.
"I say to other transgender athletes that they need to work hard because as long as their harmonization is correct, the rules are on their side," she said. "They have the right to be happy, too."