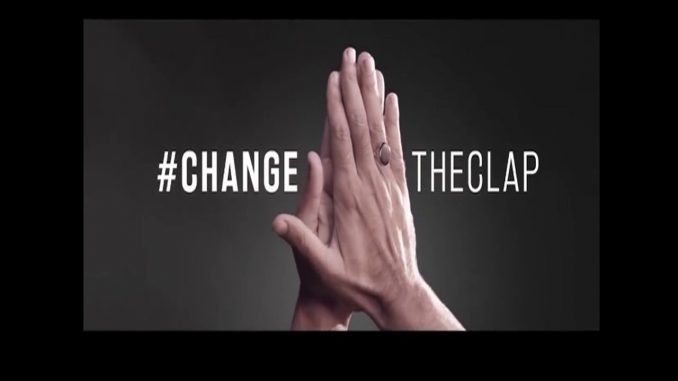 A short video that shows everyday harassment against transgender people and to change gesture of ridicule to one of support went viral in Pakistan.
Uploaded by the Asia Pacific Transgender Network, they hoped that the campaign would generate momentum to push for legislative changes for transgender rights.
The campaign #changetheclap has gained support from personalities and celebrities, calling for change in attitude and mindset towards transgender people.
A short video campaigning for a change of mindset about transgender people in Pakistan with the hashtag #changetheclap has gone viral according to transgender news article by the Gay Star News on December 20.
The video, uploaded by the advocacy group Asia Pacific Transgender Network (APTN), starred transgender model and activist Kami Sid who urged everyone to think twice about what they do or say to transgender people and to transform what was a gesture of ridicule into one of support.
APTN spokesperson said that Sid is an inspiration to the transgender community and the people in Pakistan.
"For a transgender woman, the kind of steps that she has taken for the rights of her community makes her very influential for everyone around the world," the spokesperson said. "She is a powerful force and has been so important in expanding people's perceptions and understanding of the diversity and capacity of transgender people… It is truly beautiful to see Kami Sid utilising her power to improve and serve trans communities."
Changing mindset
The video, a minute and a half in length, begins with everyday examples of prejudice and harassment that trans people face, showing a range of physical and verbal assaults.
In one scene, they were refused access to a public restroom of their preferred gender. In another, they were solicited for sex.
Each interaction ends with someone clapping, one hand perpendicular to the other, a rude gesture in Pakistan.
Kami Sid then emerges and sashays down a smoky runway. A man in the gallery realizes her gender and starts clapping mockingly.
Sid turns and decides to confront, saying, "Why did you stop? Never thought people like us could get this far, right?"
The man had a change of heart, turning his clap to one of celebration.
Then the video shows transgender people who have risen above their circumstances: trans woman student Irha Parishei, transgender man and activist Mani Aq, transman activist, transgender woman and social worker Neeli Rana, and Kami Sid.
"Change your mindset, it will change the clap too," she quips. The video then cuts to the statement, "It's time we change ridicule to applause. #CHANGETHECLAP"
Push for transgender rights legislations
Pakistan is one of the few Asian countries that allow people to select third gender option on official documents such as passport.
The national census was also going to include transgender people. A university also offered scholarship for trans students to earn a degree for free.
However, transgender individuals suffer stigmatization and violence on the ground. Last October, a beheaded body of a transgender woman was found in the city of Peshawar. Transgender advocates have been clamoring for protection from the government and parliamentary representation.
APTN said that the objective of the campaign was to gain momentum to push for legislations for transgender rights.
"It was also very important to APTN to highlight the diversity of trans people, to break boundaries, stereotypes and mainstream mentalities," the spokesperson explained. "We envisioned a campaign that will be representative of trans communities and have positive impact on the lives of trans people in Pakistan."
Support for the campaign
The campaign yielded widespread support particularly from personalities and celebrities who expressed their views on social media in favor of changing society's mindset regarding transgender people.
Actress, model, and singer Ayesha Omar took to Instagram, "Change the way you deal with transgender people on a daily basis. Change the way you laugh or snigger at them on the roads. Change the way you think #ChangeTheClap"
"I grew up in a society where the very term 'hijra' was (and still is) used mockingly to question masculinity; where the transgender community was seen as freaks of nature: to be indulged for a quick, nasty laugh; paraded, perhaps at weddings for entertainment.. but never respected.. never seen as human. No. This cannot continue," actor Osman Khalid Butt wrote on Instagram. "It's time we change ridicule into applause. It's time we show the transgender community they are not children of a lesser God. Change your mindset. #ChangeTheClap"
Pakistani-Canadian actress Ushna Shah tweeted, "For years, the transgender and khawaja sira community in the subcontinent has been neglected. We are all equally guilty, but it's good and hopeful to see a step in the right direction by APTN. #ChangeTheClap"
"For years, the transgender and khawaja sira community in the subcontinent has been neglected. We are all equally guilty, but it's good and hopeful to see a step in the right direction by APTN. #ChangeTheClap," tweeted businessman Shahbaz Taseer.
APTN appreciated the welcome and support the campaign received.
The spokesperson stated, "We are extremely humbled and grateful to all of the people that have supported the campaign and have sent in videos #change the clap."